With the release of Disney Infinity 3.0, the latest in the ever-growing 'toys-to-life' genre, comes the Star Wars: Twilight of the Republic Play Set. Set in the Clone Wars era between episodes II and III of the movie franchise, you find yourself at the centre of the conflict between the Galactic Republic and the Confederacy of Independent Systems, on an epic adventure to stop Darth Maul. Well, we say epic. Disney Infinity Play Sets have something of a reputation for being a bit light on gameplay, but is that a reputation this latest installment deserves?
Assuming you grab the starter pack, you'll immediately have the option of playing as Anakin Skywalker or Ashoka Tano although, as you'd expect with the franchise, you can also pick up alternative figures – at a price – for characters such as Obi-Wan Kenobi and Yoda. Sadly, the character you choose won't have any significant bearing on the action – although they do have their own custom animations and special moves – but, regardless, it's still undeniably satisfying to pop a figurine on the Disney Infinity Base and see them magically appear on your screen. More than that, even when you're not playing, if you spy the toy on your shelf, in the corner of your eye, it's hard not to feel a little flutter as you remember the many adventures you've been on together.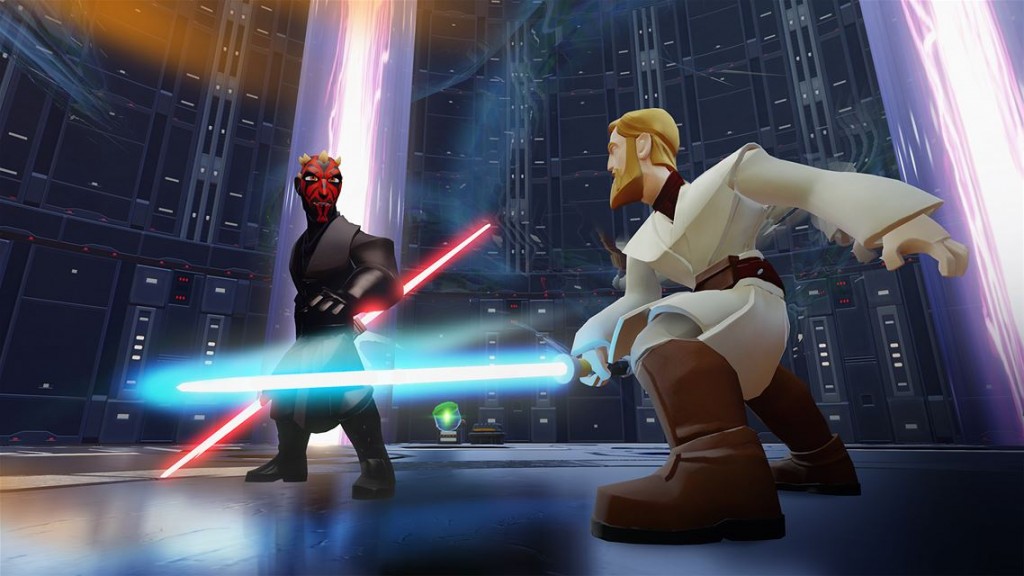 Off of the shelf and back to the game, you'll begin by investigating the activation of a hidden battle droid factory on the planet Geonosis, but it won't be long before your whizzing off to fan favourites such as the Tatooine and Naboo systems, or the political hub of Coruscant. Each is lovingly re-created here, and with plenty to keep you busy. Plus, if planets aren't you're thing, there's plenty of opportunities to take part in satisfying dog fights during your space travels en route.
Back on the ground, combat is satisfyingly weighty thanks to the involvement of developer Ninja Theory, who you may recognise from titles such as D.m.C.: Devil May Cry and Heavenly Sword. The use of Star Wars' 'force', combined with simple attack and dodge controls, allows for a satisfying breadth of button-combinations that deliver powerful combos which stun and outwit the game's enemies. A final Arkham-series Batman-style takedown to denote the end of each battle lends another dash of class to proceedings.
It's not all good news though. Jar Jar Binks features at several moments and the passing of the years has done nothing to reduce the annoyance he causes, for us at least. We appreciate that some younger fans don't have a problem with him and – let's face it – this is a game that skews younger demographically – but would it really have hurt to find some other way of delivering the narrative here, for those of us who still aren't ready to forgive and forget?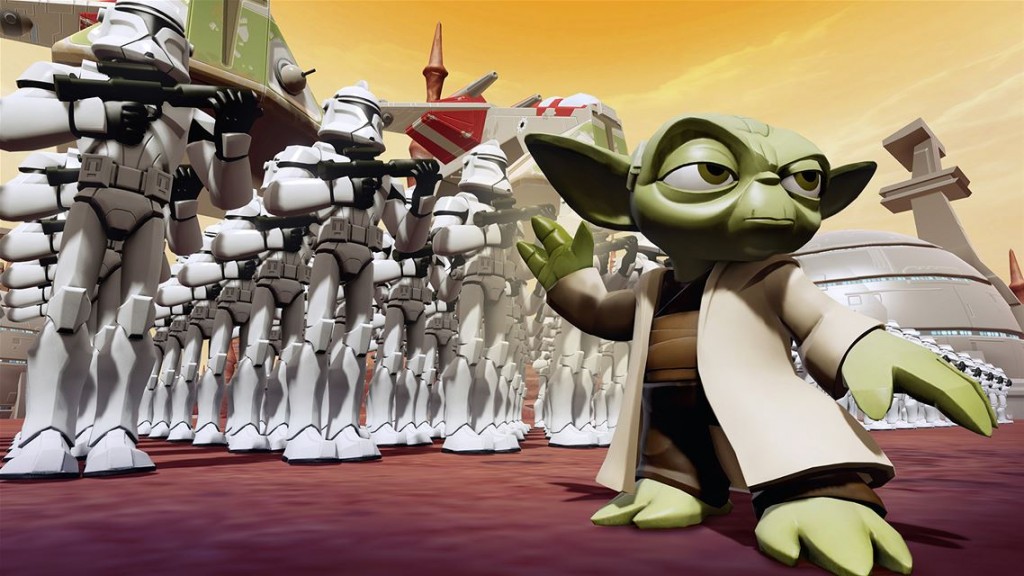 In terms of longevity, you could easily find yourself having rushed through the main story missions over the course of one or two gameplay sessions, but to do so would be to miss a lot of what Twilight of the Republic has to offer. Each of the main missions has several optional goals for which you'll be rewarded and, of course, there's a massive number of side quests to explore here too. Plus, if you've levelled up your Yoda figurine, there's nothing stopping you going back and doing the same again for Obi-Wan Kenobi. The gameplay here is certainly satisfying enough to bear up to a few repeat passes.
So, in answer to our original question, we feel there's plenty of gameplay here to enjoy. More importantly than that, though, this is a game that really FEELS like a Star Wars title. Sure, it might not have the enjoyable, knowing in-jokes of something like the LEGO Star Wars games, or the detailed graphical realism of Star Wars: Battlefront, but if you're a fan of the franchise as a whole, you'll almost certainly be satisfied that it's captured the true spirit of the world it inhabits, which is all we really want from a Star Wars game, right?