Professional football has been rife with butterfly effect storylines for decades, but some will always catch the eye more than others, especially when they involve a scenario where Lionel Messi might have found himself playing in Scotland.
The idea sounds ridiculous, but Rangers manager Alex McLeish reportedly made an approach for the man who would go on to win multiple Ballons d'Or back when Messi was a teenager. And the background to the Gers' interest in the Argentine added a bit of extra spice.
"The other thing about Messi was that my kids were into that Championship Manager game and they'd told me about him when he was only 12 or 13, that he was going to be a superstar," McLeish said.
The logistics of it all have been questioned, with journalist Steven Chicken suggesting the numbers don't quite add up, but it has become something of an urban legend among fans of Championship Manager and its successor Football Manager.
And, regardless of whether the McLeish/Messi account is truth, fiction or somewhere in between, it remains the case that the scouting system of the popular game – whose esports potential I have written about for this site – has brought an increased crossover with the real world.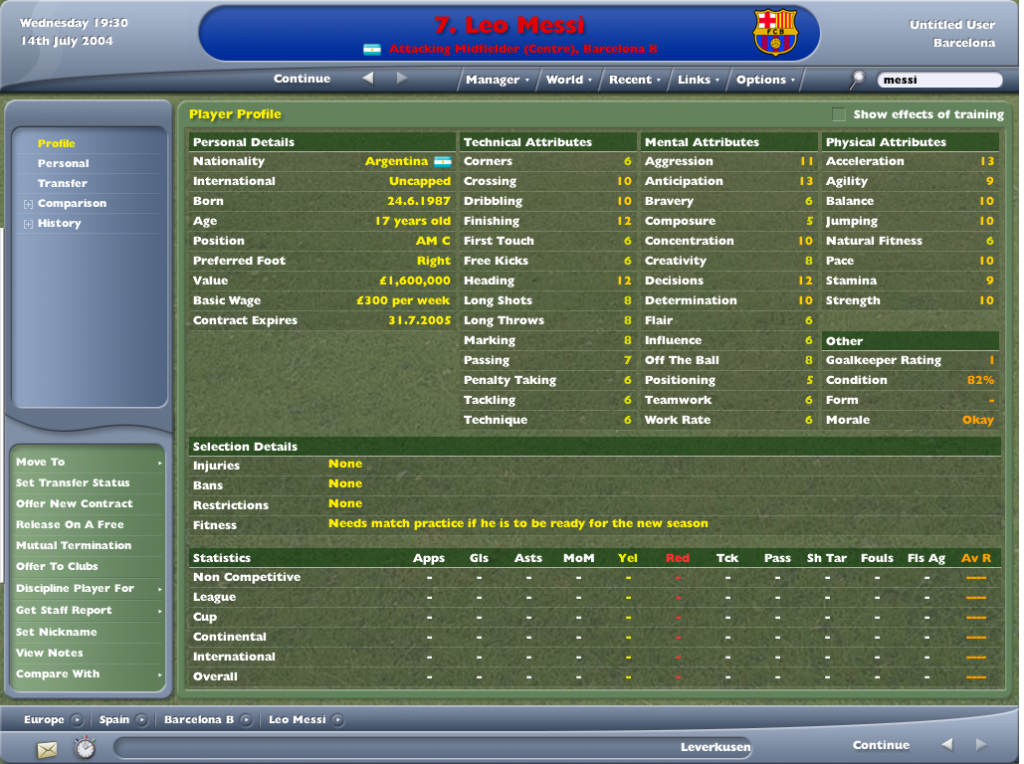 "Football Manager's scouting system is extremely well developed and uses knowledgeable people, so while it's by no means fool-proof, it can give a genuine sense of a player's current ability," Alex Stewart tells me.
Stewart, who has written about the game for Sporting Intelligence and The Set Pieces and was brought in by the BBC to provide extra context on transfer targets for the broadcaster's transfer deadline day coverage, is under no illusions that, while potentially helpful due to its depth, the game's database has the usual limitations.
"Obviously, scouting is inherently predictive for younger players, as well as contemporaneous for older ones, and that is where the system might fall down a bit," he explains.
'The reasons for this are the same as the real world: players fail to meet their expected potential all the time, either because it's wrong, or because of coaching, lifestyle choices, injury, or what have you.
"For every Messi, there's a Mark Kerr. But that shouldn't detract from FM in the same way that duff acquisitions don't invalidate an otherwise good scouting department."
Kerr, one of the stars of an earlier version of the game, has spent the bulk of a largely unremarkable career in Scotland rather than becoming one of the best players in world football. However, to use this as a stick to beat Football Manager defies logic when similar predictions based on other factors are just as prone to a major disparity between the biggest successes and failures.
Take FourFourTwo magazine's list of the 100 best youngsters in world football in 2001 as an example. While some rose to the top to become household names, such as Fernando Torres (fourth on the list), Andrés Iniesta (20th) and Arjen Robben (27th), others were less successful.
Brazilian playmaker Leandro Bonfim (third) failed to earn a senior international cap, French striker Florent Sinama Pongolle (seventh) is currently playing for Chainat Hornbill in the Thai second tier and German centre-back Baldo di Gregorio (19th) currently serves as a player-manager in the sixth tier of the German football pyramid.
Sometimes players don't meet their potential, but it's not the fault of those who saw that potential in them to begin with. What's important is acknowledging the predictions were based in reality, rather than mere stabs in the dark.
To get an idea of the scope of the research that goes into Football Manager, you need look no further than the 1,300-strong on-the-ground scouting network, which is augmented by real-life contact with clubs and a detailed and continued examination of local media and club websites.
Some of the database scouts work professionally within the football world, while others are fans who regular attend games for their chosen club, and all are divided into Head Researchers who oversee groups of Assistant Researchers.
"The most recent trend has been to increase the number of Head Researchers in countries which feature more than two professional levels within FM," head of research Mark Woodger explains.
Football Manager creators Sports Interactive research approximately 2,200 clubs from 116 divisions in 51 countries, and it's not just fans who will share their thoughts about players' ratings being too high or low.
"Funnily enough, we've recently had a message left on the office voicemail system from a current Premier League player, who called to say that all of his stats were too low," Woodger tells me.
"In fact, that's what just about every player we ever meet tells us… which is how we know we're getting things right."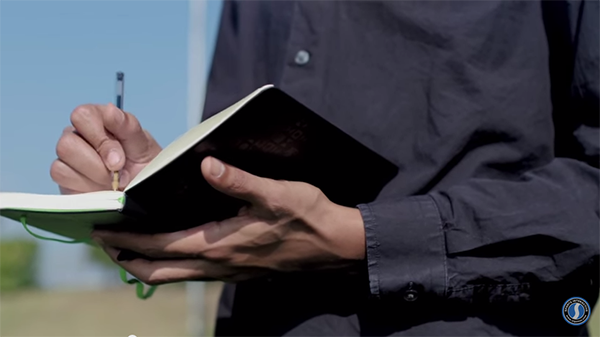 As long as it's taken as a basis, rather than a be all and end all, and there is an argument that the value of the game goes beyond scouting to inform how fans may consume transfer and gossip content – something we are sure to see plenty more of during the summer months without the distraction of a major tournament.
"I think FM and YouTube/blogging are both having an effect," Stewart suggests.
"It informs speculative pieces [and] I think it also can provide a *very* rough way of looking at how a player might fit a team, though I personally think that's far more subjective and not that useful.
"Perhaps where FM is best is in opening up football, via its database, to discovery of leagues and players who otherwise would not cross the radar of the average fan. Does that change consumption? Maybe."
There was a sense of this even during the last World Cup in Brazil, the first in which the widespread availability of live football at all hours meant it was rare for fans to encounter an altogether unknown quality. Even someone like Ecuador winger Jefferson Montero, at the time playing for Morelia in Mexico, was watched eagerly by expectant crowds familiar with his Football Manager exploits.
Montero would ultimately move to the Premier League off the back of that tournament, but has been only sporadically impressive for Swansea City, starting only a couple of games last season.
"Discovering a wonderkid is possibly the most rewarding part of the job," Woodger admits.
"All of the talk in football at the moment is about Monaco's Kylian Mbappé, but FM players will have known about him for a couple of seasons."
The disparity shown by former FM wonderkids is a reflection of senior vs youth football as much as it is a 'reality vs fiction' argument, and one man with experience of both sides, former Gambia international Cherno Samba, sees both sides.
Samba was one of the stars of the game during his teenage playing days at Millwall, before failing to quite hit the heights predicted of him, but continues to play the game as something of a sounding board for his nascent coaching career.
"Obviously this is virtual, but you have your own tactics, you change the players you don't want to play or you change your tactics, so it is similar," Samba tells me.
"But doing this does help your knowledge as well, just knowing what comes into it when you're managing."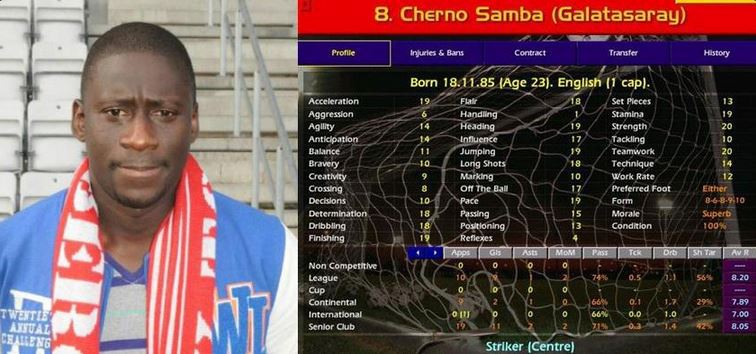 Enough has been extrapolated from Football Manager for people to recognise that – far from being speculative and occasionally lucky – its research comes with far more detail and hard work than many might expect.
With an already-substantial scouting team growing in reach, and with patterns for judging potential always open to tweaking, it is unlikely that someone like Mbappé will be the last to be 'discovered' in the game before cracking the big time.
Clubs and fans will continue to look beyond the game when doing their own research, but it provides a genuine assessment that – when married with watching players in the flesh – can provide a real tangible benefit.