Team United Kingdom won't win the Overwatch World Cup. Even the players with their "it's coming home" hubris know they probably won't be reaching the final. It's going to be tough enough to get past the United States in the quarterfinals and their six Overwatch League players compared to the UK's one. The UK's OWL player, Isaac "Boombox" Charles, doesn't think it should be that way though.
"Last year it was kinda strange that only I got in the Overwatch League," he tells me, referring to his UK teammates. He wonders if the only reason that most of the current UK team are on Contenders teams rather than OWL teams is because of their performance at the main event, Blizzcon. "We did poorly at Blizzcon, but we had some issues with the team. Some players didn't even play the game. We did well in qualifying, we beat Chinese Taipei, Australia. We didn't exactly have an easy group as people think. We showed we were good, and not a lot of us got opportunities to try out [for OWL teams]."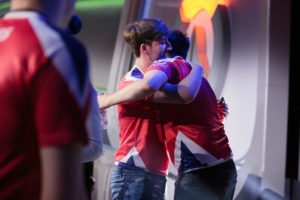 This year, Boombox says the team is even better, and that most of them are at Overwatch League level, if not at a level to at least try out for every team.
I asked Elliot Hayes, head coach of Team UK and assistant coach for the Philadelphia Fusion, whether he, as a talent scout, agreed with his star player.
"We have some definite OWL calibre on this team, I'd be surprised if they didn't get picked up [next season]. If you look at the top 12 we have now, we have a lot of talented players.
"But as far as top players, there aren't that many up and coming. KSP [Kai Collins] is a good example of one, but they're quite rare. We're one of the highest rated teams in World Cup ratings, but as far as top players on teams, I think we have a lot of tier three players."
The reason he puts it down to is a lack of structure beneath Contenders, the second tier of Overwatch esports: "We have Open Division and a few LANs in the UK, but apart from that there isn't much infrastructure, similar to a lot of other European countries."
Tom "Stylosa" Francis, YouTuber and Team UK General Manager, thinks it's only a matter of time before some of the current players rise to the top.
"When we looked into building the team we thought there must be players who can use this as a platform to push their career on. But even if you look at Boombox, he's totally different from last year, he's much more mature. Going through the Overwatch League system, you can tell he's an OWL player and it rubs off on the other players. Hayes coaching the team rubs off onto the team too. For the UK scene, it's great."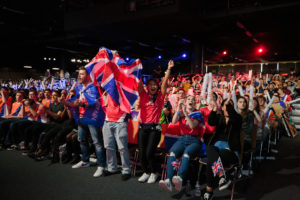 Stylosa also acts as the "British Consultant" for the inaugural Overwatch League champions, London Spitfire. The entire roster is Korean, but the organisation does its best to try and connect with British fans. With their Contenders team, British Hurricane, they're trying to take that one step further by developing as much British talent as they can.
"A lot of [British Hurricane] players have been trialling with Overwatch League teams," says Stylosa. Plus, with eight more teams entering the Overwatch League this year, there are even more opportunities to make it to the big stage. British Hurricane has had an up and down year, winning Season 1 of Contenders, before crashing out of Season 2. However, it seems the players are still of interest to the big teams.
Hayes also says that seeing Boombox at the World Cup, and seeing him in the Grand Final of the Overwatch League playing for Philadelphia against the London Spitfire, will inspire younger players from the UK. "When people see that and realise he's British, they feel pride inside and are like 'I wanna be that guy on stage from the UK'"
The London Spitfire are visiting London this month, and although they've never been there before, they already have a lot of fans in the capital. They too will inspire a new generation of Overwatch players.
It'll take time, and the formation of some better competitive infrastructure in the region, but don't be surprised if you see a lot more UK talent in the Overwatch League in years to come.