One of the most exciting times of the year for FIFA players around the globe is the release of Team of the Year cards in FIFA Ultimate Team. Players look to see who they can buy to bolster their team whilst competitors seek to get an edge over their opponents.
After weeks of guesswork from fans and players alike, EA Sports officially announced the Team of the Year today, Monday, January 7. The forwards will be available in packs from 6pm tonight and by the weekend, all eleven will be available in-game.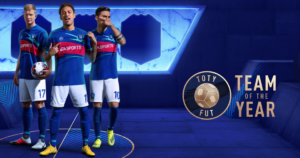 Here is the final team:
GK: De Gea
DEF: Marcelo
DEF: Sergio Ramos
DEF: van Dijk
DEF: Varane
MID: De Bruyne
MID: Kante
MID: Modric
FWD: Mbappe
FWD: Messi
FWD: Ronaldo
Personally, I'm surprised not to see Liverpool's Mohamed Salah on the team after the incredible 2018 he had, but the competition was fierce; a Champions League winner in Cristiano Ronaldo, a World Cup winner in Kylian Mbappe and a La Liga champion in Lionel Messi beating him to the post. It's hard to make a case against any of these players, and it seems Salah's lack of silverware is ultimately why the blue card eluded him.
The rest is hardly up for debate, however – there may be some other alternatives in the defensive line, such as Diego Godin who is ageing like a fine wine, but ultimately this seems to be as accurate as it could be. Once again EA Sports have managed to capture who were truly the greatest players of 2018, in a year with some incredible footballing moments. Let's just hope 2019 manages to do the same!
I know I struggle to hold on to my coins when the team of the year gets released – I hope this year is different. Tell us if you agree with the FIFA 19 Team of the Year picks, and if you get involved, let us know which players you get!