Lil Majin recently placed 3rd in Evo's Tekken 7 tournament. Although not within the TWT, this Evo was the largest Tekken tournament in history, and Majin's placement was a first for America in the face of their Asian competitors.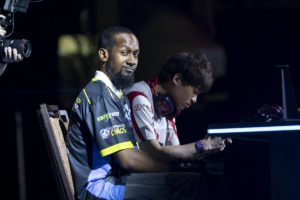 Photo Credit: Chris Bahn | Red Bull Content Pool
Fighting game fans know that Korea is a veritable superpower when it comes to Tekken. Throughout the franchise's lifespan, the country — and Asia as a whole — has dominated competitive Tekken tournaments, with a majority of the game's top players hailing from South Korea and Japan.
In fact, the top seven players in the Tekken World Tour standings are Korean: Western players begin to filter in beneath the seventh place line, with Tissuemon representing Italy at eighth place and Anakin sitting at 14th place.
Since Tekken 7's release in the West, several Western competitors have managed to take top placements in both Master and Challenger-ranked events in the Tour — but none have managed to take the Evolution Championship Series.
The King of America
Terrelle "Lil Majin" Jackson is one of Tekken's notable Western fighters. Standing beside the likes of Joey Fury and Speedkicks, Lil Majin currently sits at third place in America's rankings within the Tour. Having taken fourth place at CEO and seventh at Final Round earlier this year, Majin's strength was visibly growing — and Evo would provide him with yet another outlet to test his mettle.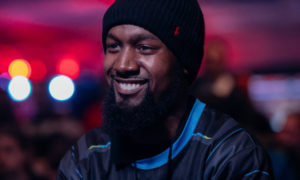 Photo Credit: @HelloitsLi
Majin is known for using King, a grappling character with complex inputs that aren't generally seen in Top 8's. "I use King because I have been a big pro wrestling fan since childhood," Majin stated of his character choice. "I watched WCW and WWF every week back in the 90's, and have used wrestling styled characters in almost every fighting game that I've played."
While King isn't considered a top-tier fighter, Majin doesn't have a pocket character in hand for bad matchups. "As far as having a pocket character to cover 'difficult matchups,' I don't have any of those," he continued. "I firmly believe that I can beat any character on the game with King as long as I have practice and experience fighting them. King is all that I need to win."
Working through Winners'
True to form, Majin's King was a force to be reckoned with. He made it through pools on Winners' side, set up to play CEO champion JeonDDing in the Semi-Finals: Majin had previously lost to JeonDDing at CEO, rendering their ensuing match as a critical runback.
"My gameplan was basically remembering the training I did after being eliminated by JeonDDing at CEO," Majin said. "I streamed my practice against Eddy immediately after CEO, as well as continuously played against great Eddy users online like Spero Gin, Glaze20z, Chitowns_Deuce, and radicalkingz. Playing them consistently helped me to react correctly to JeonDDing's manoeuvres when we played at Evo."
Majin's practice paid off – he took it over JeonDDing in a close 2-1, bringing the match to the final round of the last game.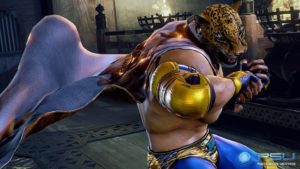 Majin went on to defeat Noroma in a strong 2-1. With this victory under his belt, Majin was set up for Top 8 as America's sole representative. While this wasn't the first time an American had made Top 8 for the game, it did mark a first for the title's official console release: Speedkicks placed seventh in 2016 before the game was available to Western players.
"After I beat Japan's Noroma to qualify for top 8, I popped off like never before," Majin recalled. "The pop-off was due to the fact that I have never gotten into Top 8 at Evo, and that this was the biggest Tekken tournament in history."
Is this your king?
Majin was scheduled to face off against JDCR in the Winners' Semi-Final – the first match of the evening. "Going into top 8, there was a lot of pressure for me to win since I was the sole American who qualified," Majin said. "Although I was under pressure to win the biggest Tekken tournament in history, I didn't let it overcome me, nor have me lose focus on simply playing my best."
JDCR currently sits at fourth place in the TWT standings, and for good reason: as the 2017 Evo champion with multiple top placements in his crown, JDCR and his Dragunov were a major threat to the competition. This didn't deter Majin one bit: his previous experience fighting Dragunov online made him confident in their upcoming battle.
"In our Top 8 set, I used the first match to see how much JDCR knew about King and to see how he responded to certain situations," Majin admitted. "After seeing how he reacted to those situations, I was able to make adjustments and win."
I forgot to say important things. EVO2018 had a great game.
All the Korean players were strong this year as well (legendary players).
Thai players were also in the final (very impressive).

Personally, this game was the most impressive –> https://t.co/8RmjFaTSb6 @Lil_Majin USA

— Katsuhiro Harada (@Harada_TEKKEN) August 8, 2018
It was Tekken 7's top character against a leopard skinned wrestler. The crowd went wild for the American favourite, and the energy was palpable – every win and loss had an audible effect on those gathered in the arena. In what has been called "match of the year," Lil Majin took the Winners' Semi-Final over JDCR in a convincing 2-1 run, giving audiences hope that America could finally take a Tekken Evo.
"After I beat JDCR, I felt like I was ready to win the entire tournament!" Majin expressed. "He had been the most dominant player last year, and he won Evo 2017; therefore, I had to pop off after beating him."
Taking a top placement
LowHigh was next on the lineup, having taken out the TWT champion Qudans to sit in the Winners' Final. Using Shaheen, LowHigh took it over Majin 3-1 with Shaheen, moving on to Grand Finals and knocking Majin into the Losers' Final.
"Similar to King, Shaheen has great standing punishment, a hopkick, and multiple safe launchers," Majin said of the matchup. "However, Shaheen has a full crouch mixup that does great damage when the opponent doesn't guess correctly. LowHigh gave me a difficult time because I haven't had a lot of Shaheen experience prior to Evo, and I had to adapt to both him and his character as the set progressed. I adapted later in the set, but it wasn't enough."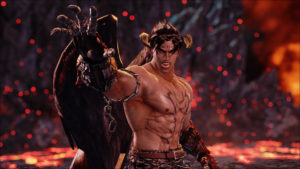 Majin faced Qudans in the Losers' Final, where his Devil Jin wrought major destruction; Qudans beat out Majin 3 – nil, knocking him out of the tournament at third place.
"Fighting against Qudans was definitely a learning experience," Majin stated. "Unlike fighting against Shaheen, I've had ample experience against Devil Jin. However, Qudans is the reigning Tekken World Tour champion for a reason. I was completely outplayed. Nevertheless, I have learned from that set and will be better prepared the next time that we fight."
Best of the west
While Majin didn't emerge an Evo champion, he did make a major statement in regards to America's strength in the game. Majin was the first American to place that high in the title — and in the largest Tekken tournament in history, at that.
"Being the first American to place Top 3 at Evo for Tekken 7 is a bittersweet placement," Majin admitted. "I wanted to win! Again, after I beat JDCR, I felt that I was ready to win the whole thing; therefore, placing 3rd was not completely satisfying. Don't get me wrong, I am proud to get as far as I got, and to have beaten so many foreign invaders such as Snake, Pekos, JeonDDing, Noroma, and JDCR. I defended America to the best of my abilities. "
When they ask me what I do and who I do it for?! For the love of #TEKKEN!

I finished 3rd place out of 1547 Tekken 7 competitors from around the globe! I've never taken so many pictures with fans and signed so many autographs in my life lol.

The grind continues… pic.twitter.com/QVTGleJZQM

— ITS| Lil_Majin (@Lil_Majin) August 6, 2018
Majin's success stands behind that of other competitors at Evo 2018. With Sonic Fox's success against his rival GO1 and Problem X's win over Tokido, the West made a great show of strength against its Asian adversaries in multiple titles.
While third place wasn't a total victory, it stands as a massive testament to America's Tekken prowess, and fans can expect even more from Lil Majin in the future.