Comcast Spectacor and The Cordish Companies have announced plans for a $50 million esports venue to be built in the Philadelphia Sports Complex, primarily to house Overwatch League team Philadelphia Fusion. The new venue, named the Fusion Arena, will seat up to 3,500 guests, making it the largest purpose-built esports arena outside of Asia.
This move seems to be the first step towards OWL teams playing in their own city or state, with teams travelling between home cities for matches against their opponents, much like as in traditional sports, something that League commissioner confirmed at South by Southwest during an ESPN Esports panel.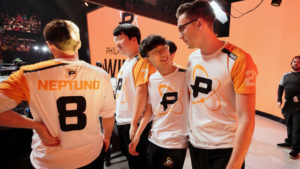 Speaking with Cheddar Sports, Spectacor Gaming and Philadelphia Fusion President Tucker Roberts said: "This is going to be, I hope, one of those venues that in fifty years when they blow it up, people want the seats because they had such great memories there watching the Fusion and other esports teams play. That's the power of having a home when you're a team. It's somewhere where the fans can really latch on and feel like they're at home, too. It's a really big occasion for us and the city of Philadelphia."
The Sports Complex is a focal point for locals in Philadelphia, putting the Fusion Arena directly next to Citizens Bank Park (home of the MLB's Philadelphia Phillies), the Wells Fargo Center (NHL's Flyers, NBA's 76ers) and Lincoln Financial Field (NFL's Eagles). The placement of a purpose-built esports arena amongst these iconic and historic locations serves only to show how seriously the League, and Philadelphia itself, is taking esports.
"I think the location's great," Roberts said. "People are used to going to see a Flyers game down there and now you can go and see a Fusion game there as well."
"It's going to be up there with what you'd expect from a professional athlete in traditional sports to receive," Roberts told Cheddar Esports. "On top of that, it's not just sweet space and computers. It's streaming rooms, it's VOD review rooms, it's food and beverage… it's going to take away all of the other issues that you would have to worry about so that you can just focus on the game and focus on teamwork and getting better."
Needless to say, we can't wait to see the arenas that are borne of OWL going global – it's an exciting time to be an esports fan.