Following 100 Thieves' dominant win over eUnited in the CWL London grand final, GINX TV caught up with Ian "Enable" Wyatt to discuss 100 Thieves, Search and Destroy and the London crowd.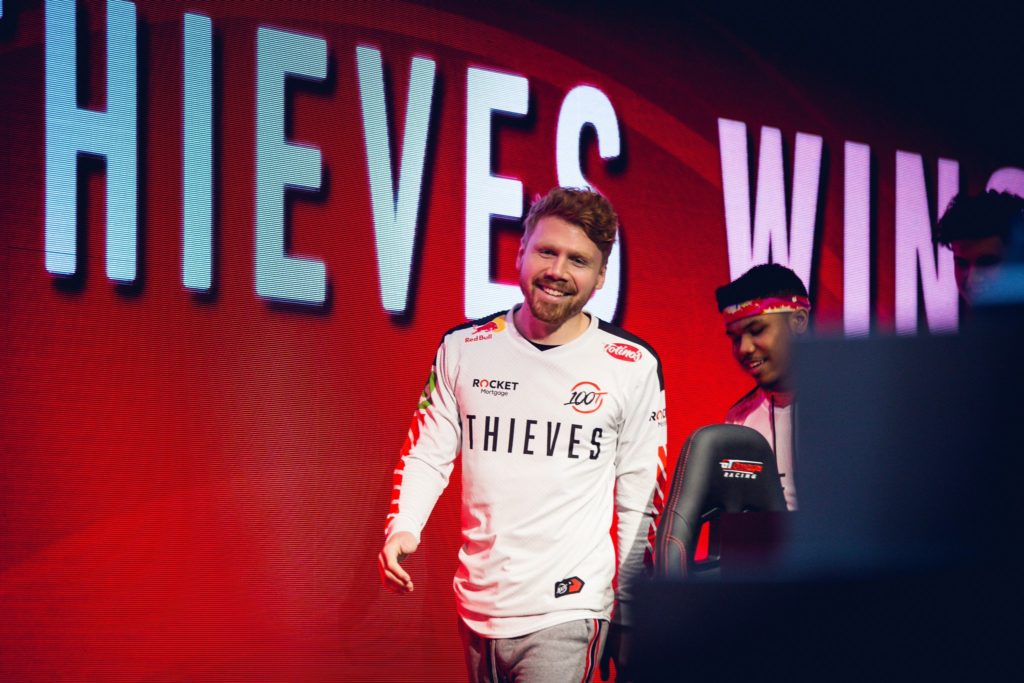 How important is it to you, with the size of 100 Thieves as an organisation and as a brand, to get this win for 100 Thieves?
I can't even put it into words, to be honest. 100 Thieves itself is a huge brand with a lot of supporters and fans, and you put a lot of pressure on yourself.
We're under a lot of pressure to perform well, but a lot of people don't see behind the scenes with how invested Nade (Matthew "Nadeshot" Haag), John Robinson and everyone at 100 Thieves is. Not only with the Call of Duty team, but with the League of Legends team too. The amount of support they show us is unbelievable.
Obviously, we want to win for ourselves, but to see Matt smile, to get the first ever chip for his org after everything he's done for us… I can't even describe it. It feels amazing.
Have you had the chance to speak to Nadeshot at all?
We spoke a little on FaceTime, he FaceTimed Muddawg (General Manager Eric Sanders) and everyone was just screaming. I'll probably talk to him later tonight. But I saw his face and he was super excited.
You faced OpTic Gaming in the Winner's Final, and I think most people thought this would be the grand final too. How confident were you heading into that series after they beat you in pool play?
We were very confident. In the Pool Play match we didn't play that well – I played really bad – but we played some of their stronger maps to see how we stacked up. We know we have a better map pool than them, but the maps that they're good at they're really good at.
After we lost, we were laughing because we knew they would mess up if we played them again in the bracket. They would think we would want to play certain maps.
I've been saying it for as long as I can remember: we're the most fundamentally correct team and talent-wise we're probably the best, if not top two. Going up against them we know that they're an amazing team, but if we just play the game correctly, we know that we can stay in it and be able to clutch up.
Do you think that loss in pool play helped you learn their tendencies, or give you a better understanding of things they did?
Yeah, a little bit. They cared more about that match than we did. They were definitely going harder than us, which played right into our hands. We saw little bits, but we knew most of these things before the event and they didn't really change anything.
We don't worry too much about them. A majority of the time, we just worry about ourselves as we know that if we make the correct plays, we're going to win nine times out of ten.
The most noticeable thing about this team is that every player can pop off at any time. Does that ever impact how you play? Do you find it becomes easier to rely on your teammates to make the play and go off to win the map?
Oh, yeah! The way I look at it, all five of us can take over at any time, but I have four of the most talented players to ever play Call of Duty on my team, so from my perspective, if I'm going off on the map I know we're going to win. But, for the most part, I just try to play fundamentally correct and bait for my teammates, and I can rely on them to get a two- or three-piece. Especially Sam (Larew, "Octane") with the ICR, nobody's better than him, and I think that showed this weekend.
Your win rate in respawns is incredible, but Search and Destroy continues to be a vulnerable mode for you guys. What's the reason for that, and is it something you try not to worry about since you're so comfortable in the respawn modes?
We definitely worry about it. We're very streaky right now; we're either really good or really bad. We're so hot and cold we either win handily or not even give ourselves the chance to clutch up. I think we just need to start focusing on getting better at Search as a team because we're not always on the same page and a lot of teams take advantage of that because we try to play too methodical.
After this event we're definitely going to go back and work out how we want to approach Search and Destroy because our respawn is so dominant right now. As long as we keep doing what we're doing we won't fall behind in that, and if we correct our Search and Destroy, we can win a majority of series' 3-0.
The crowd was almost the star of the show at CWL London – how much does the crowd impact how you play, and what are your thoughts on the London crowd in general?
First off, the London crowd was amazing, and I couldn't be happier to win in front of them. Unbelievable. That might, honestly, be the best crowd I've ever seen at an event.
But when I'm actually up there playing, it doesn't really affect me at all, whether it's good or bad. When I'm playing, I'm just focused on making the right plays. When I get a crazy kill and I can hear the crowd, I know I should feed into that, but I really don't, but on the upside if I make a bad play and they react, I can just shrug it off.
I think that if you let the crowd affect you too much, whether good or bad, you can really lose focus on the actual game and then it becomes super momentum-based so I just block it out.
That crowd was amazing, though.
A huge congratulations to 100 Thieves. This does, of course, mean I finally got an event prediction right, having been doing them semi-regularly for two years. Make sure to check back for more fantastic analysis.