Few probably pegged Vivo Keyd to be sitting in the grand finals at the end of this weekend's Clash Royale League World Finals in Tokyo. As one of the six finalists culled from a starting pack of 44 teams, the Latin American team had proven its abilities in competitive Clash – but visa issues hampered the squad at the last minute, keeping player Juan Pablo "Arima" Lópoez Resrepo and Vivo Keyd's coach and manager from entering Japan.
Even with a smaller three-man team and no support staff on-hand, Vivo Keyd persevered. They came out swinging in the seeding tournament, finishing atop the standings at 4-1 and then won their first World Finals match against the fan-favourite Japanese team, PONOS Sports. That put them in the grand finals, but Chinese rival Nova Esports was still considered the favourite.
Luckily, Vivo Keyd made it plenty interesting, taking the surprise 2v2 round win to kick things off – but it was the machine-like precision of Nova Esports that ultimately took the series win following a trio of 1v1 victories. After the finals, GINX spoke with CRL casters Rich Slaton and Andrew Ghai to discuss what makes Nova so dangerous and why Vivo Keyd were the "heroes of the day" even in defeat.
Claiming the 2v2
Described as a "David vs. Goliath" matchup, the grand finals were expected by many to be a one-sided affair in favour of Nova. Instead, Vivo Keyd continued its improbable run by showing the teammates' synergy in the initial 2v2 roundup. Vivo Keyd may not have had its full roster or usual support staff in the arena, but the players showed that they can team up to topple even the highest-level competition.
"That big 2v2 was so crazy because it looked like Vivo Keyd was dead in the water from that first game," said Slaton. "And then KIKI and Gabo – two guys that everybody counted out – the way they adjusted partway through and took that set, I think everyone in the room for a moment there was like, 'Oh, Vivo Keyd could win this thing. They could take out Nova.'"
ARE YOU SEEING THIS? WE HAVE A 2V2 SWEEP! 😱@VivoKeyd just won both 2v2 games against @LittlechenCRCN and @aurora4270.

UNBELIEVABLE play by @kiki_UuUr and @GaboCr1003…

Tune in to the World Finals presented by @GooglePlay: https://t.co/oUw0bT2Q5o pic.twitter.com/fbHdwGiOjs

— Clash Royale Esports (@EsportsRoyaleEN) December 1, 2018
Ghai described Vivo Keyd's 2v2 deck as "a spell cycle deck with strong defensive capabilities," and one that requires ample communication to be successful. That's exactly what makes 2v2 such a compelling mode. All of these players are tremendous 1v1 competitors, as that's the core game mode and the one that they've been playing since the start, but 2v2 requires a different kind of mentality – and a level of collaboration that can throw off lesser teams.
"Really what it came down to was KIKI and Gabo found something inside themselves that they didn't have," explained Slaton. "They were the original 2v2 duo from the team, and then they changed things because it wasn't working. But here on the biggest stage, they won both their 2v2 sets and I think that's the biggest thing for that squad."
It would be their only round win in the grand finals for Francisco "Javi14" Javier Rodríguez, Hugo Octavio "KIKI" Abonza Flores, and Gabriel "Gabo" Alderete López, but it was enough to make a huge impression on fans and show that Latin America can hang with China and the rest of the world when it comes to top-level Clash Royale.
"Honestly, I feel like they're the heroes of the day," said Ghai. "Vivo Keyd played absolutely incredible. It was one of the greatest performances I've seen from a team that was definitely shorthanded coming into this. I think Gabo, KIKI, and Javi couldn't be prouder of what they've done. If Arima was here, we don't know if it would have been different or not."
Nova's edge
When it came to Nova's win, Slaton and Ghai pointed to something that Vivo Keyd didn't have in their corner this weekend, at least not physically: their coaching staff. Nova might have fallen in the 2v2 round, but switching back to 1v1, they could focus more on individual matchups and find ways to outplay their opponents.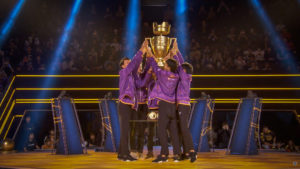 "I think the hard part for Vivo Keyd was just that Nova knew it was going to be Javi in the second and fourth set, and that made it easier to game-plan against him," said Slaton. Added Ghai: "The coaching done by Nova – it was clear that they had the number of Vivo Keyd, and I think that is a big part of it."
What impressed the casters was the depth of Nova's roster. Nova has some of the best players in the game today, including Chenghui "Lciop" Huang and Hanbin "Auk" Li, but the team didn't solely rely on the success of its biggest guns. "You have Lciop and Auk, who are top players in the world. Then you have a guy like Legend, who no one expected to see. We thought he wasn't going to play a single game," said Slaton.
"I had it written down in my notes that Legend would not play, and there was no way he was going to play," added Ghai. "And he came out and did the only King of the Hill sweep. He did it over a team [Asia's King-Zone Dragon X] that looked like they couldn't be stopped earlier on."
Nova's ability to bounce back from defeat was another key to their success, said the casters, as multiple players picked themselves up after earlier losses and went on to help drive their grand finals victory.
"You look at Little Chen bouncing back from that 2v2. You look at Lciop getting benched after losing to X-Bow Master," said Ghai. "That's what athletes do at a professional level in sports that millions and millions of people watch, and it's the same thing here. These guys are true athletes and superstars, and I couldn't be more impressed by them."
Winning ways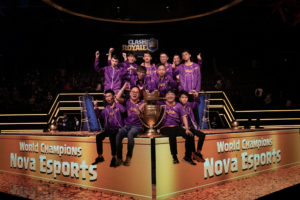 In the post-finals press conference, Auk cited the players' individual capabilities as a big part of the win, but also pointed to their team synergy as a key factor. "Everyone in the team had very strong team spirit. Everyone was very united," he said via translator.
And while Vivo Keyd admitted that their missing compatriots played a role in their defeat, Nova pointed to just the opposite – that their coaching support helped turn the tide, just as the casters had suggested. The team said they used the seeding tournament to analyse their opponents' strategies, and we saw the results in action on Saturday. "Most importantly, the coaches' guidance – and also the practice matches and all of the support from fans in China – was the strongest advantage that we had in winning this championship," said Auk.
Vivo Keyd were the heroes of the day for their valiant effort and 2v2 play, suggested Ghai, along with their perseverance after losing part of their team. But when all was said and done, it was Nova hoisting the very first Clash Royale League World Finals trophy under the confetti at Makuhari Messe, and that's the image that will surely last in all of the other CRL competitors' minds until they have another shot next season.
"All respect to those guys for what they did, Javi and KIKI and Gabo, with such a tough situation," said Slaton. "But Nova did what Nova does, which is win."
All images courtesy of Supercell and the Clash Royale League