On Thursday 17th May, Xbox unveiled their brand-new Xbox Adaptive Controller, designed to make gaming easier for those with limited abilities.
It has two large programmable buttons and 19 ports that can be connected to different joysticks, buttons, and switches to make it easier for those with disabilities to play games on Xbox One and Windows 10 PCs.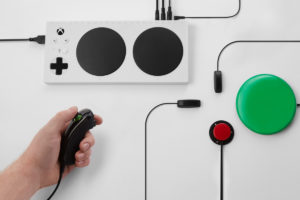 Microsoft have worked with third-party companies PDP, Logitech and Quadstick to create a device that works seamlessly with their external products.
PDP's One-Handed Joystick and Logitech's Extreme 3D Pro Joystick are ideal companions to the device, as well as Quadstick's mouth-operated joystick.
Clearly, Xbox have spent a lot of time trying to make gaming accessible and inclusive to an extent further than what many are used to.
Microsoft also worked in partnership with charitable organisations all around the world, with SpecialEffect, the AbleGamers Charity, The Cerebral Palsy Foundation, Craig Hospital and Warfighter Engaged having contributed to the process of the Xbox Adaptive Controller coming to fruition.
"This has been a milestone collaboration for us," said SpecialEffect Founder and CEO Dr Mick Donegan. "Our experience in helping people with complex physical disabilities to access video games has enabled us to provide not only very relevant advice about features and design, but also direct feedback from a user-centred perspective. Microsoft have a competitively-priced product here that has massive potential to help many more people globally to enjoy the magic of video games."
In a statement released by Xbox, it is said that they wanted this controller to be "as adaptable as possible, so gamers can create a setup that works for them in a way that is plug-and-play, extensible, and affordable."
There is no doubt that players' ability to build a setup that is personalised and custom to their needs is a step forward for gaming accessibility, and other companies are sure to follow suit soon.
With the industry only growing, and the popularisation of gaming in mainstream media, hopefully the Xbox Adaptive Controller can help bridge some gaps for limited ability gamers.
The Xbox Adaptive Controller will cost $99.99 and is available exclusively through the Microsoft Store. More information is set to be shared in a few weeks at E3.