Every week, GINX TV hosts two marathons on our Twitch channel, featuring our most in-demand shows so that you can catch up on everything you've missed.
Starting on Monday at 7pm, you can watch every episode of The Daily Download that you may have missed in the last week, seeing you right through to 9pm ready for This Week In Esports to go live.
Then, from 5:30 PM until 9pm every Wednesday is The First Hour Marathon. You can see the episode listings below.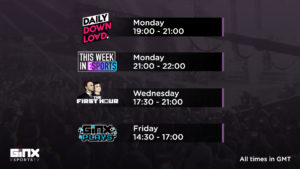 Week 1 (16/01/2019)
The First Hour: Mario Kart 8
The First Hour: Splatoon 2
The First Hour: Yooka-Laylee
The First Hour: Friday the 13th
Week 2 (23/01/2019)
The First Hour: PUBG
The First Hour: Tekken7
The First Hour: FIFA 18
The First Hour: Uncharted Lost Legacy
Week 3 (30/02/2019)
The First Hour: Marvel vs Capcom Infinite
The First Hour: Sonic Mania
The First Hour: Cuphead
The First Hour: Mario + Rabidds Kingdom Battle
Week 4 (06/02/2019)
The First Hour: Fortnite
The First Hour: Star Wars Battlefront 2
The First Hour: Call of Duty: World War II
The First Hour: Assassins Creed Origins
The First Hour: Overcooked
The First Hour: Super Mario Odyssey
Week 5 (13/02/2019)
The First Hour: Dragonball FighterZ
The First Hour: Lego Marvel Superheroes 2
The First Hour: Street Fighter V Arcade Edition
The First Hour: Monster Hunter: World
Week 6 (20/02/2019)
The First Hour: Shadow of the Colossus
The First Hour: Dissidia Final Fantasy NT
The First Hour: Metal Gear Survive
The First Hour: Sea of Thieves
Week 7 (27/02/2019)
The First Hour: Scribblenauts Showdown
The First Hour: Kirby Star Allies
The First Hour: Mutant League
The First Hour: Owlboy
Week 8 (06/03/2019)
The First Hour: Far Cry 5
The First Hour: A Way Out
The First Hour: God of War
The First Hour: UFC 3
Week 9 (13/03/2019)
The First Hour: Extinction
The First Hour: Burnout Paradise Remastered
The First Hour: Shaq Fu
The First Hour: Overcooked 2
Week 10 (20/03/2019)
The First Hour: Mario Tennis Aces
The First Hour: Jurassic World Evolution
The First Hour: Street Fighter 30th Anniversary Collection
The First Hour: Realm Royale
Week 11 (27/03/2019)
The First Hour: Mega Man 11
The First Hour: FIFA 19
The First Hour: Shadow of the Tomb Raider
The First Hour: Hello Neighbor
Week 12 (03/04/2019)
The First Hour: Marvel's Spiderman
The First Hour: Indie Games
The First Hour: Red Dead Redemption 2
The First Hour: Soul Calibur 6
Week 13 (10/04/2019)
The First Hour: Call of Duty: Black ops 4
The First Hour: Fallout 76
The First Hour: Spyro Reignited
The First Hour: Pokemon Lets Go