The groups have finally been announced for the FIFA eClub World Cup Paris, one of the FIFA 18 Global Series qualifying tournaments for the Global Series Playoffs and the FIFA eWorld Cup in August.
The event takes place in Paris on 19-20th May, with 16 clubs, each with two representatives, facing off on both Xbox One and PlayStation 4 with $50,000 up for grabs.
The clubs in the tournament feature both endemic and non-endemic esports organisations, be it local favourites Paris Saint-Germain or UK-based organisation Lightning Pandas.
The groups
The group draw for the FIFA eClub World Cup Paris took place on Monday 14th May, and this is how it looked: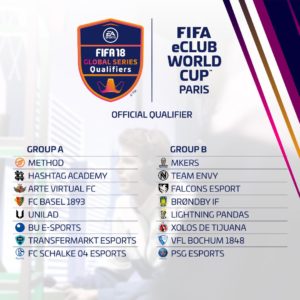 There are a lot of recognisable names here – both from esports and from traditional sports. Local team PSG Esports have been struck in the same group as reigning champions Brondby, who are unlikely to be an easy challenge in this tournament.
Battle of the Brands
We also see top social media names go against each other in Group A, as YouTube team-turned-esports-org Hashtag Academy are drawn alongside UNILAD, both of whom have long-term involvements in FIFA esports as well as having featured teams across other titles such as Call of Duty and Rocket League.
Other notable names include FC Basel, who's TheStrxnger came second at FUT Champions Cup Barcelona and FC Schalke, both of whom have made names for themselves in Swiss and German football respectively.
Team EnVy will also be featuring in Paris, an organisation that have won major championships across multiple esport titles.
The upcoming tournament should hopefully be a well-run and entertaining production, as FIFA seeks to implement itself as an esport here to stay and to be taken seriously, in a world dominated by FPS' and MOBAs.