Last night, June 19, the Metarama Gaming and Music festival was announced, bringing together some of the top names in the two industries for two days of music, comedy and gaming entertainment.
The festival, taking place on October 19-20 at Las Vegas Festival Grounds, features the likes of Tyler "Ninja" Blevins, Snoop Dogg, Jack "CouRage" Dunlop, Lil Yachty and Shaquille O'Neal in the star-studded lineup.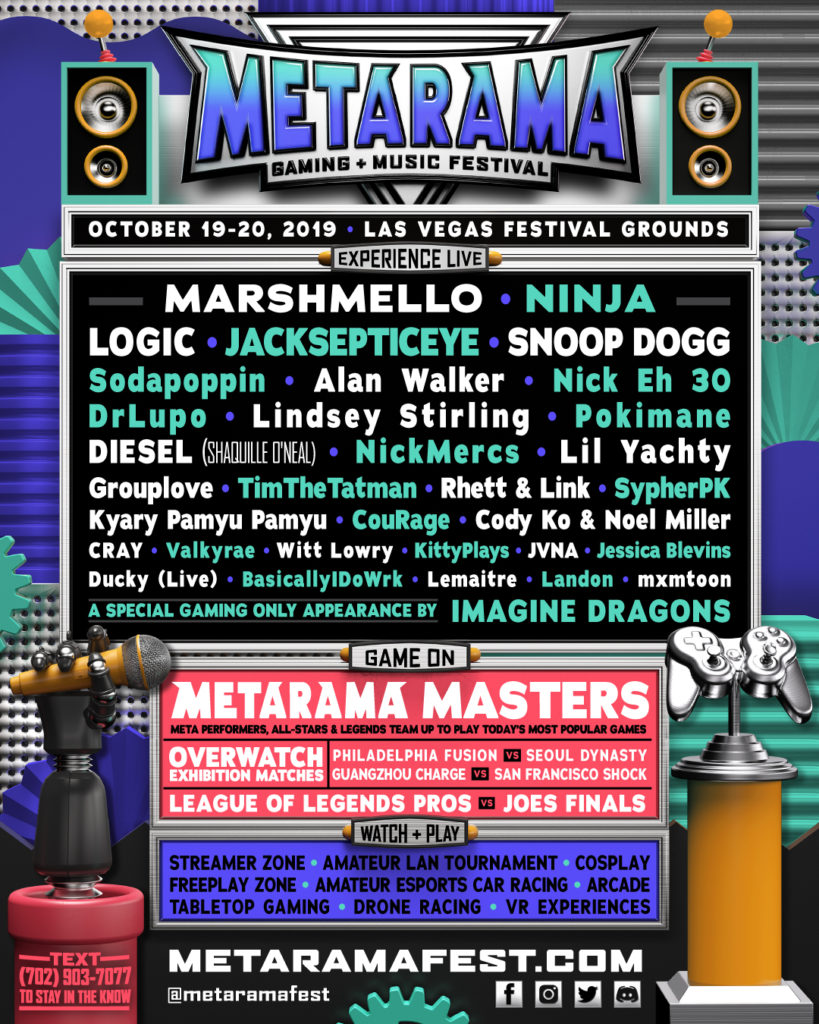 It's interesting to see names like Imagine Dragons here, who are down as a "special gaming only appearance", meaning they won't actually be playing any music at the festival.
Similarly Jessica Blevins, Ninja's wife, is in the lineup, and despite her relationship isn't commonly noticed as a prolific name in gaming entertainment, so it will be interesting to see what her role will be at the festival.
As well as the entertainment, Metarama will feature amateur LAN tournaments (more details yet to be announced), a streamer zone, a freeplay zone and a VR experience amongst other activities.
Ticket prices are as follows:
2-day general admission $150
2-day general admission 4-pack $540
2-day VIP $400
2-Day Power Up $860
The VIP ticket offers unlimited access to the VIP Lounge, a full-service bar and limited edition Metarama merchandise, whilst the Power Up is essentially a maximised VIP ticket, with an elevated viewing deck, WiFi, a complimentary locker and skip-the-line privileges at all free-to-play areas, amongst other things. Make sure to check out all of the Metarama festival ticket options before purchasing.
The merging of gaming with some of the biggest industries in the world is becoming ever more common – Marshmello recently performed a live concert within Fortnite Battle Royale, whilst Square Enix revealed their upcoming Avengers game at E3 2019.
Whilst a lot of fans seem to be against musical acts performing at LAN events, this crossover seems to be a pretty good one, with much less at stake and everybody just looking to have a good time.
To find out more information, check out the Metarama Gaming and Music festival website.