ESL UK and Ubisoft are teaming up to bring two more seasons of Tom Clancy's Rainbow Six Siege action to the ESL Premiership, this time on PC instead of Xbox.
The new winter season of Tom Clancy's Rainbow Six Siege competition will launch in September 2018, with another season following in spring 2019. The winter season will see eight teams competing for a £10,500 prize pool.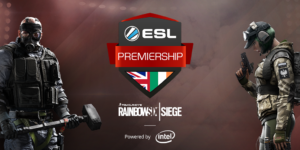 The new season kicks off at 7pm on September 12 and at 2pm on September 16, 2018, with two rounds of open qualifiers, which means that any aspiring teams can try their hand at semi-pro competition – along with any teams that played in the first season of the Rainbow Six Siege ESL Prem. If you'd like more information about the open qualifying rounds, head to ESL's R6 Qualifier page.
Eight teams will emerge from those open qualification rounds. Those teams will be divided into two groups of four, and they'll all play each other twice every Wednesday in October and November.
The top two teams in each group will qualify for the grand final, which will take place on December 8th at ESL Studio 1, in Leicester.
Chris Place, Group Marketing Manager at Ubisoft UK, said: "We're proud to be partnering with ESL UK for a second year of the Rainbow Six Premiership. With the move to PC and the addition of a second season this time around, we're setting the stage for some really exciting local competition this year. We can't wait to see UK/IRE talent grow, develop and hopefully increase the amount of UK involvement in the Challenger and Pro League competitions."
With the success of the Paris Major where Team Secret, a team featuring British players, reached the Semi-Finals, the addition of two seasons of Premiership action will provide ample experience for the emerging talent on the UK scene.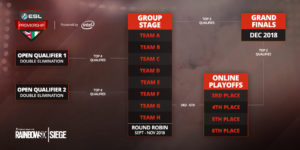 Rob Black, the COO of ESL UK, said that it was "awesome to see the Rainbow Six Siege competitive scene in the UK go from strength to strength. We've got some incredibly talented players in the UK and watching them hone their skills in the Premiership is always really exciting. In the long term, ESL wants to help Ubisoft build a platform in the UK to slingshot players & teams into the top levels of global competition – and this is just the next step."
Any teams that want to enter the forthcoming Premiership seasons can sign up from the UK Rainbow Six Portal at https://play.eslgaming.com. Fans can also take part by watching the grand final in person, tickets will be on sale soon.
Rainbow Six Siege commentator, Harry "Demo" Dempster, is enthused about the upcoming seasons. "I'm so excited to see Siege back in the UK and Ireland, especially with the switch to PC. And, with Team Secret doing so well internationally, our up-and-coming teams have a new benchmark to aim for!"
If you won't be able to attend in person, you can catch live action from the Rainbow Six Siege ESL Premiership by heading to the official Twitch channel. You can also follow the action by using the hashtag #ESLPREM, and head to Twitter, Instagram and Facebook for updates.