Overwatch is the latest craze to hit the eSports scene – heck, the gaming industry in general – with thousands upon thousands of gamers playing, competing and tuning in to competitive events on a monthly basis.
After the close of the recent ESL Overwatch Atlantic Showdown, the game is already gearing up for the next big tournament – this one even bigger than the last.
Eleague and FACEIT have partnered to host their own competitive Overwatch event – the Overwatch Open – that will see the best teams from Europe and North America battle each other for the top spot and the biggest prize pool of an Overwatch event so far.
It's currently entering the group stage of the tournament, but you don't have to miss a single shot fired, ultimate used or capture point captured – Ginx eSports TV is airing the entire group stage live.
You can tune in to Sky channel 470 or Virgin Media channel 290 between Wednesday 24 August to Sunday 28 August between the below times to watch these teams go head-to-head. Will we see Rogue maintain its surprise victory after the Atlantic Showdown, or will Team EnVyUs regain its incredible win streak? Find out, only on Ginx.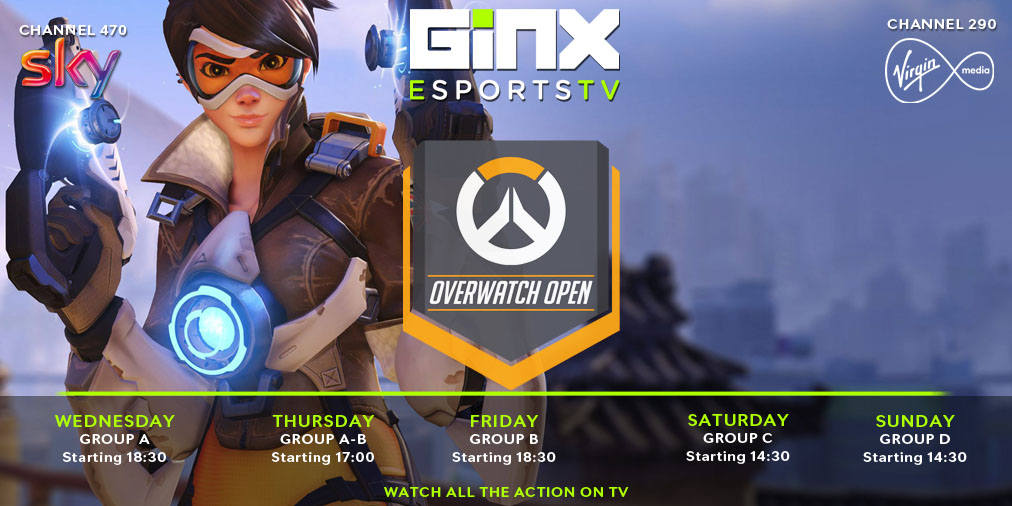 Overwatch Open, live on Ginx eSports TV
GROUP A – WEDNESDAY AUGUST 24TH, 2016
18:30 BST / 13:30 EDT

EUROPE – MISFITS VS. BIKINI – Upper Bracket Semi

20:00 BST / 15:00 EDT

EUROPE – MELTY VS. ANOX – Upper Bracket Semi

21:30 BST / 16:30 EDT

EUROPE – TBD VS. TBD – Upper Bracket Finals

00:00 BST / 19:00 EDT

NORTH AMERICA – NV VS. BYE – Upper Bracket Semi

01:30 BST / 20:30 EDT

NORTH AMERICA – SELFLESS VS. SPLYCE – Upper Bracket Semi

03:00 BST / 22:00 EDT

NORTH AMERICA – NV VS. TBD – Upper Bracket Finals
GROUP A – THURSDAY AUGUST 25TH, 2016
17:00 BST / 12:00 EDT

EUROPE – TBD VS. TBD – Lower Bracket Round 1

18:30 BST / 13:30 EDT

EUROPE – TBD VS. TBD – Lower Bracket Finals

00:00 BST / 19:00 EDT

NORTH AMERICA – TBD VS. TBD – Lower Bracket Round 1

01:30 BST / 20:30 EDT

NORTH AMERICA – TBD VS. TBD – Lower Bracket Finals
GROUP B – THURSDAY AUGUST 25TH, 2016
20:00 BST / 15:00 EDT

EUROPE – ROGUE VS. GK – Upper Bracket Semi

21:30 BST / 16:30 EDT

EUROPE – PRETS VS. FAZE – Upper Bracket Semi

03:00 BST / 22:00 EDT

NORTH AMERICA – C9 VS. HUCKLEBERRY – Upper Bracket Semi

04:30 BST / 23:30 EDT

NORTH AMERICA – SEA ALGAE VS. SODIPOP – Upper Bracket Semi
GROUP B – FRIDAY AUGUST 26TH, 2016
18:30 BST / 13:30 EDT

EUROPE – TBD VS. TBD – Upper Bracket Finals

20:00 BST / 15:00 EDT

EUROPE – TBD VS. TBD – Lower Bracket Round 1

21:30 BST / 16:30 EDT

EUROPE – TBD VS. TBD – Lower Bracket Finals

00:00 BST / 19:00 EDT

NORTH AMERICA – TBD VS. TBD – Upper Bracket Finals

01:30 BST / 20:30 EDT

NORTH AMERICA – TBD VS. TBD – Lower Bracket Round 1

03:00 BST / 22:00 EDT

NORTH AMERICA – TBD VS. TBD – Lower Bracket Finals
GROUP C – SATURDAY AUGUST 27TH, 2016
15:00 BST / 10:00 EDT

EUROPE – REUNITED VS. BFLY – Upper Bracket Semi

16:30 BST / 11:30 EDT

EUROPE – BRINGOS VS. NIP – Upper Bracket Semi

18:00 BST / 13:00 EDT

EUROPE – TBD VS. TBD – Upper Bracket Finals

19:30 BST / 14:30 EDT

EUROPE – TBD VS. TBD – Lower Bracket Round 1

21:00 BST / 16:00 EDT

EUROPE – TBD VS. TBD – Lower Bracket Finals

23:00 BST / 17:00 EDT

NORTH AMERICA – FNC VS. MONO – Upper Bracket Semi

00:30 BST / 18:30 EDT

NORTH AMERICA – CLUTCH VS. TL – Upper Bracket Semi

02:00 BST / 20:00 EDT

NORTH AMERICA – TBD VS. TBD – Upper Bracket Finals

03:30 BST / 21:30 EDT

NORTH AMERICA – TBD VS. TBD – Lower Bracket Round 1

05:00 BST / 23:00 EDT

NORTH AMERICA – TBD VS. TBD – Lower Bracket Finals
GROUP D – SUNDAY AUGUST 28TH, 2016
15:00 BST / 10:00 EDT

EUROPE – LG VS. NNY – Upper Bracket Semi

16:30 BST / 11:30 EDT

EUROPE – OWK VS. DIGNITAS – Upper Bracket Semi

18:00 BST / 13:00 EDT

EUROPE – TBD VS. TBD – Upper Bracket Finals

19:30 BST / 14:30 EDT

EUROPE – TBD VS. TBD – Lower Bracket Round 1

21:00 BST / 16:00 EDT

EUROPE – TBD VS. TBD – Lower Bracket Finals

23:00 BST / 17:00 EDT

NORTH AMERICA – COL VS. GECKOFOX – Upper Bracket Semi-finals

00:30 BST / 18:30 EDT

NORTH AMERICA – METHOD VS. NRG – Upper Bracket Semi-finals

02:00 BST / 20:00 EDT

NORTH AMERICA – TBD VS. TBD – Upper Bracket Finals

03:30 BST / 21:30 EDT

NORTH AMERICA – TBD VS. TBD – Lower Bracket Round 1

05:00 BST / 23:00 EDT

NORTH AMERICA – TBD VS. TBD – Lower Bracket Finals