This weekend, 32 teams will battle for the title of Call of Duty World Champion: the most prestigious title in Call of Duty esports, and you even get a championship ring to go with it.
Following on from my CWL World Championship group stage prediction, I'm predicting the championship bracket of the tournament and, more importantly, this year's Call of Duty World Champions.
Without boring you on the results of every single match, let's take a look at my top eight teams.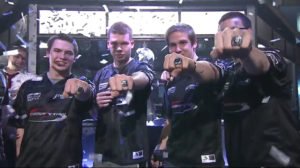 8. Luminosity Gaming
Initially, I had LG placing higher, especially with Jordan "JKap" Kaplan's history at Champs, but the way the fixtures played out worked perfectly for providing Kap with his worst Champs placement yet.
Don't be surprised to see them place higher, but following a lacklustre year, I think this Luminosity team would be content with getting top eight.
7. OpTic Gaming
Ah, as the memes foretold. OpTic and 7/8th at Champs go hand-in-hand, and I see this continuing in this weekend's matches.
OpTic have had an underwhelming year, with two different rosters that have both failed to capture a championship. This will likely go down as the first year ever that Seth "Scump" Abner has failed to win a championship. And the Greenwall conjure up a storm like no other.
6. eUnited
eUnited have consistently been towards the top end of the Pro League teams this season, but often unable to penetrate the upper echelons that teams such as Rise Nation, Red Reserve and Team Kaliber have reached.
That said, they are clearly a competent team and able to not only cause upsets but place highly. Tyler "Felo" Felony historically does well at Champs, whilst captain James "Clayster" Eubanks tends to find form when the stakes are high.
5. Rise Nation
I know, I know. I'm an idiot. What's wrong with me?
Every Champs sees some pretty major upsets, and this is what I've got. It would almost be too obvious for Rise to go on and win the event, cementing their clear spot as the best Call of Duty: World War II team. They have the best player in the world on their team, the best assault rifle player and two of the best subs in the game.
Think OpTic in Advanced Warfare and Black Ops 3.
That said, I think they have their weaknesses and some teams will be capable of exploiting that. I'm not going to be surprised if they win though.
4. UNILAD
This UNILAD side have seemingly come out of nowhere. Losing Matthew "Skrapz" Marshall to Red Reserve initially seemed like it would push the team further down the pecking order, but it has actually done quite the opposite. This new roster seems to be clicking and, when firing on all cylinders, able to beat anyone.
Can they win the event? Probably not. But they can definitely make the lives of other teams harder.
3. FaZe Clan
FaZe Clan have been nothing short of confusing this season. An unexpected win at Stage 1 playoffs showed what they are capable of doing, but they have looked to be struggling frequently throughout the year.
However, much like old FaZe captain Clayster, this current squad are also capable of pulling off the unexpected when the pressure is on – their previous win and qualifying for Stage 2 playoffs amongst some of the biggest surprise events of the year.
Expect them to turn some heads at Champs.
2. Team Kaliber
The Stage 2 playoff champions are hot off a huge win, beating Rise Nation in the playoff grand final just two short weeks ago. It's safe to say that very few expected Team Kaliber to even reach the grand final, let alone win it all.
In the last two years, the winner of Stage 2 playoffs have gone on to win the event, but I think tK will break tradition here with a second place finish.
1. Red Reserve
Ah, the national heroes. Red Reserve are Europe's best ever chance at picking up a major chip, with only Splyce having brought a trophy back to the continent.
That Splyce team also featured one Trei "Zer0" Morris, one of Red's current stars. If he and his teammates can play to their best, they will take the championship that has eluded them all year, and what better time to do it than at the biggest event on the calendar?
Full bracket: