The first event of the Call of Duty: Black Ops 4 season is set to be the CWL Vegas Open, taking place next weekend from December 7-9.
With the new title comes a whole host of new rivalries and matchups to watch out for, as well as rivalries being born. This is perhaps one of the most exciting facets of Call of Duty esports, so ahead of the event I wanted to look at the rivalries you need to be aware of.
OpTic Gaming vs. Eunited
This rivalry first stemmed from a satirical tweet from the eUnited Twitter account, mocking OpTic Gaming's top 24 finish at the Call of Duty World Championships.
#SpookySzn indeed, a ghost deleted our original tweet.

We're still being a Top 24 Champs team for Halloween. pic.twitter.com/horwWA9KgA

— eUnited (@eUnitedgg) October 31, 2018
The entire CoD esports scene went wild, with OpTic fans reporting the original tweet to the point it got removed by Twitter and fans of opposing teams finding it all absolutely hilarious.
OpTic player Seth "Scump" Abner even responded to the tweet, telling eU player James "Clayster" Eubanks that he would be "embarrassed to rep that child shit".
Though OpTic has seemed like the superior team thus far in online play, they have started to split maps with eUnited in scrims and it may be that the two have each other's number throughout the year.
Parasite vs. Xotic
Honestly, if you haven't seen this beef then you may have been living under a rock. The following tweet is the pinnacle of the entire ordeal.
Pipe down. You're worthless. You're not a friend of mine and I honestly hope the rest of your career is plagued with failure. You will never be a champion. You are a coward.

— Christopher Duarte (@Parasite) November 15, 2018
For context: Parasite's team, which did feature Xotic, were set to grab a pool play spot in Vegas, thus increasing their chances of a high placement, more money and of making the Pro League. The day before roster lock, Xotic told the team he would be leaving to join another – leaving Parasite's team scrambling for a fifth and out of the pool play spot.
With Parasite and co. entering the play-in stage of the tournament there is still a chance we see these two face off in pool play should they qualify, and CoD fans are desperate to see it.
OpTic Gaming vs. 100 Thieves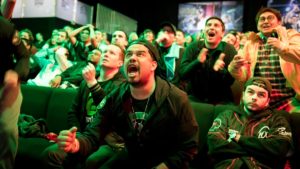 Yeah, it's essentially every team vs. OpTic, but this one is big enough to warrant its own segment. In case you're new to the scene, 100 Thieves CEO Matthew "Nadeshot" Haag used to be the face of OpTic Gaming (and of Call of Duty esports) and, though he split from the organisation in a somewhat uncomfortable situation, he has now made amends with long-time friend and OpTic Gaming CEO Hector "H3CZ" Rodriguez.
After 100 Thieves was officially formed and became a permanent partner of the NA LCS alongside OpTic, the two went head-to-head in the opening match of the 2018 Spring Split. It was almost as if it was all planned out.
Now the two take to the battlefield in Call of Duty, with both teams good enough to challenge for the championship. This is going to be one to watch throughout the Black Ops 4 CWL season.
Skrapz vs. Wuskin
Perhaps not a rivalry as such, but this is a matchup fans have been clamouring for since the twins separated midway through last year's World War II season. With Skrapz on Red Reserve and Wuskin recently signing for Team Reciprocity, we could yet see them face off in the latter stages of the tournament.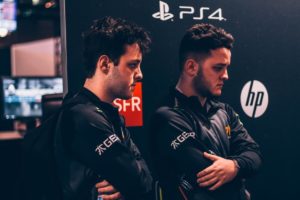 As the top two European teams at the event, who will both be living in the States for the duration of the Black Ops 4 season, it will be interesting to see which of these teams can put up a stronger showing in Vegas.
Expectations are high for Red Reserve, who had a very successful year throughout WWII despite not managing to get a championship win under their belt. However, Reciprocity is made up of an incredible group of very capable players who could very much be a dark horse for this event.
You can catch all the action on Twitch, and make sure to check back on GINX TV for any updates throughout the event!