The new Call of Duty competitive season is almost upon us, with the long-awaited release of Black Ops 4 finally arriving. If you know anything about esports then you have likely heard of OpTic Gaming, one of the biggest organisations in the entirety of the industry. Call of Duty is where it first established itself, and over the past few years, it created a dynasty for itself.
Winning an impressive amount of tournaments throughout Advanced Warfare, Black Ops 3, and Infinite Warfare, OpTic Gaming ensured it was the team to beat at any given Call of Duty event. This all changed in the last season, however, with chemistry problems piling up on top of a decline in in-game skill. This led to a personnel change – closing the chapter on the best roster of all time – but things didn't improve.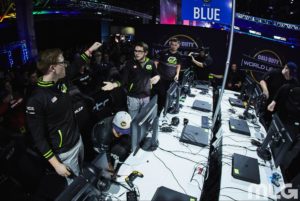 Fast forward to Black Ops 4, Activision and Treyarch have decided to switch things up by adopting five-person teams instead of the traditional four. OpTic Gaming has adapted to this change by bringing in two skilled players – one proven, the other a stranger to the dizzying heights of Call of Duty championships – in hopes to returning to its former glory.
Despite having three of the four players that built the Optic Gaming dynasty, there's a chance that the Black Ops 4 era will be another disappointing one for the Green Wall.
The new OpTic Gaming
Looking at the former OpTic Gaming rosters going into games for the past few years, they all were undeniably championship-winning rosters. The chance of success with this particular assortment of players, however, is considerably less convincing – partly down to external factors, which will be discussed after we've taken a look at the individual members of the squad.
Thomas "TJHaLy" Haly is one of the two new recruits, and immediately fans clamoured to question his involvement. It's not that he hasn't been successful in the past – he won three championships in Call of Duty: WWII – but he thrives in doing the dirty work for a team, filling in gaps where his teammates are unavailable. Who else is good at undertaking such a role?
None other than the only three-time world champion, Damon "Karma" Barlow. Karma has been known to have plenty of off-games in the past (despite his success) and if he's taking a more kill-based role in the team, then inconsistency could well lead to losing and subsequent in-team issues.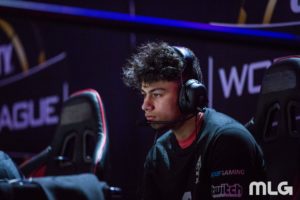 The other newcomer is Brandon "Dashy" Otell, who represented compLexity Gaming for the majority of WWII. The 19-year-old is an assault rifle player whose accuracy has been compared to that of some of the best players in the game. Despite this good reputation, Dashy is yet to prove himself at events in a way that matters: winning.
Last season he accrued a collection of Top 16 placements but his teammates on compLexity weren't generally on the level of those on OpTic Gaming. So, while we find Dashy's potential impact a little unpredictable right now, he has definitely shown promise of having an impressively-high skill ceiling – now he just has to reach it.
Seth "Scump" Abner has been a force in Call of Duty ever since he broke onto the scene during the very first Black Ops. Known to be one of the best slayers with a submachine gun in the entire game, Scump actually had a rough time during WWII – whether this is down to that game in particular or an overall decline in skill is yet to be seen. It's likely to be the former, but having a question mark surrounding one of the most talented players in the whole franchise isn't a good start for OpTic Gaming going into the upcoming season.
As far as we're concerned, veteran Ian "Crimsix" Porter is the only member of the team that you can 100% count on. He has won more Call of Duty tournaments than any other person in the world and has always been a reliable member of his team, whether playing boots on the ground or jetpacks.
Overall, it's likely that many of these variables will turn out to be positive – but they're variables nonetheless. It's looking almost impossible for OpTic Gaming to achieve the level of success it once had, but that's also down to the competition the team now faces.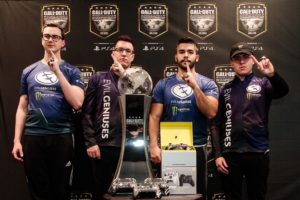 The Competition
There are 18 players that have won at least one World Championship title throughout Call of Duty. This exclusive list of competitors is divided into at least six teams with the likes of Adam "KiLLa" Sloss, Marcus "MiRx" Carter, and Tyler "TeePee" Polchow no longer competing on a professional level.
As things stand with rosters, the World Championship players are spread out over OpTic Gaming, FaZe Clan, Team EnVy, Luminosity, 100 Thieves, and eUnited. It's also hard to discount teams such as Splyce, Team Reciprocity, and Red Reserve – each roster contains event-contending players, and while they've not won the big one yet, they have every chance of doing so in Black Ops 4.
Many believe that OpTic's toughest competition will be 100 Thieves. 100 Thieves came into the scene without a single Call of Duty players to its name, but now it could well be the team to look out for above all others. Matthew "Nadeshot" Haag's squad combines two of the top three AR players – Sam "Octane" Larew and Austin "SlasheR" Liddicoat – with top SMG Kenny "Kenny" Williams, an emerging star in Maurice "Fero" Henrique, and an experienced competitor in Ian "Enable" Wyatt.
All eyes will be on 100T to make an explosive debut at CWL Las Vegas Open in December, but the guys on OpTic Gaming will no doubt be looking to prove that they can truly compete with the best throughout the season.