A career as a professional gamer is the dream for countless young men and women, but always seems like such a far cry from what is really possible. That's why it's so impressive that twins Alec "Arcitys" and Preston "Prestinni" Sanderson managed to make their way to the top of the Call of Duty scene together, side-by-side on one of the greatest teams in the world.
I spoke with Arcitys and Prestinni about their upcoming stint in the CWL Pro League with eUnited, franchising and not playing together.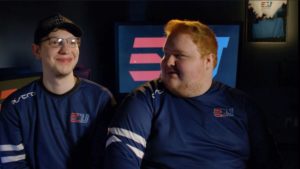 At CWL Vegas the team performed really well. You eventually came second losing only to OpTic who, for what it's worth, looked pretty much untouchable throughout much of the tournament. How did it feel coming out of the event, and does it change your expectations at all going into the Pro League?
Prestinni: Winning two best-of-five series' vs OpTic was going to be tough no matter what, so after we choked the first map in the fashion that we did, I knew it was going to be ten times harder to beat them. That map killed a good chance at making both series' happen. It didn't really change our expectations though, because I have a winning mindset no matter what event it may be.
Speaking of the Pro League, which teams do you think we should keep an eye on and will be challenging you the most for the top spot?
P: In our division, I'm expecting 100 Thieves to really pick their game up and be the most improved team by far. They've been looking real good.
You've been teaming with James "Clayster" Eubanks for a long time now, and not only is he a massively popular player in the scene but he's an extremely accomplished leader. What do you think he brings to the table that you might not get elsewhere?
Arcitys: What Clay brings to the table is a veteran mindset, and an attitude that most people don't have. Sometimes it hurts but most of the time its great. He has a lot of competitive drive and as his teammates, when you're winning its great, but as you can see from last year when you lose there's a lot of frustration. But it shows that he cares and believes in the team.
I mentioned Clay being a fan favourite, but I was in the venue for World War II Champs and if you guys weren't already really popular, you definitely were there. I remember speaking to someone working there who had no esports experience at all, and even he said he was heartbroken when you guys got knocked out. What was going through your minds at this event, as you progressed further through the ranks and the crowd kept getting louder and more supportive?
A: World War II Champs just didn't feel real. I didn't expect to have that much support and i knew right after we beat Red Reserve that we actually had a chance to take it all. We were all on a high riding off the momentum of the crowd, and I'll never forget that event. Definitely top two for me personally, alongside MLG Atlanta (in 2017, in which Arcitys and Prestinni won their first and only CWL event so far).
Also, you've now got Jordan "JKap" Kaplan on the team, are there ever any issues between he and Clay as they're both quite vocal leaders that may each think they know best?
A: I feel like having more than one vocal leader is great because I feel like I'm becoming more vocal as a player. It does cause a few arguments but if the team is level-headed, smart and know what's best, arguments will always be good and should never hurt the team.
Arcitys, you're statistically amongst the top players, you're a fan favourite and many predict you to go down as one of the greats. How does that make you feel? Is there ever any pressure, do you worry about not keeping up performances at all?
A: Performing at the level I am right now makes me feel really good. I've always known I could do it but I have had a lot of confidence issues over the last couple of years. I'll never worry about my stats unless we are placing bad and I can tell its my fault we're losing, but I'll do anything to win and if it makes it look like I cant shoot back thats fine. I just have to play the game correctly.
And Prestinni, how does this make you feel as both a brother and a teammate? You're obviously highly regarded yourself but it seems Alec consistently manages to impress beyond expectations.
P: As an aggressive submachine gun player, it means Alec and I play completely opposite roles. Usually a sub player's stats are much less impressive, which many know but don't pay attention to. I led my team in kills almost every event since the beginning of WWII but the first thing people look at is my KD first so its overshadowed. I've always understood that, but fans seem to think I suck and need to be dropped every year, so I've learned to take all of the negativity and use it as motivation.
The 'other twins', Matthew "Skrapz" Marshall and Bradley "Wuskin" Marshall, have seen a lot of success since parting ways – obviously it's a dream to play alongside your brother, but have you considered splitting since this eUnited roster formed or do you see yourselves splitting sometime in the future?
A: Preston and I splitting up was in the talks this off-season but we're both really glad we stuck  because this is the best our team has played since Season 2 playoffs of Infinite Warfare. Splitting sometime in the future hasn't even been brought up, we're worried about right now and, if we're not performing well in the future, then we will talk about it. Right now, though, it's not even a thought.
It was recently announced that Call of Duty will be switching to a city-based franchising system – though we don't have much information about it yet, the move has been widely criticised already. What are your opinions?
A: Franchising in Call of Duty will be a new experience for everyone but it should be good. I've heard rumours for a little now and have no real opinions, I just feel excited for it.
Finally, how do you feel franchising could have affected your early career? Do you think you guys would have found the same success if franchising was introduced in, say, the Black Ops 3 season?
A: Franchising would've affected my career a lot. In Infinite Warfare with the original squad of Peirce "Gunless" Hillman, Justin "Silly" Fargo-Palmer and Prestinni, I thought I was the worst one on that team, so if there was a franchised league I would have been picked up last, if at all. I think with franchising we will see more individuals get picked up instead of groups of two to four players as it will be a bigger risk for teams.
eUnited kick off Division B of the CWL Pro League against Spanish side Heretics on Monday, February 18, and you can catch all the action at twitch.tv/callofduty.