According to reports from ESPN, Activision Blizzard has started the sales process for a franchised, city-based CWL Pro League, and have set franchise spots at the price of $25m per team.
The report states that Activision Blizzard esports executive staff have held meetings with prospective buyers, both within the current pool of professional teams as well as the Overwatch League ownership groups, asking for a non-binding indication of interest within two weeks. Overwatch League team owners will have the first right to negotiate for their 'home' market.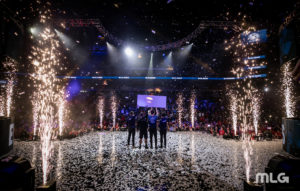 This new league is believed to be starting in 2020, the same year OWL teams will be relocating to their home markets. This means that not the next instalment in the Call of Duty franchise, but the following one, will be our first look at the franchised league.
The current model for the CWL Pro League sees 16 teams holding a slot for the offline matches based in Columbus, Ohio. The ownership of league spots going to teams instead of players – an attribute common in franchised leagues – has been the subject of much scrutiny from players and fans alike, with low-tier organisations qualifying for the league and not paying players, blackmailing them and replacing their entire roster with players that didn't qualify. At least with a high buy-in price, these scenarios are far less likely to occur.
Activision Blizzard confirmed reports that it intends to launch a city-based Call of Duty franchise league during an earnings call in February. Also during that call Activision announced it would lay off nearly 800 employees across the entirety of the company, a controversial decision that garnered a lot of negative press.
Make sure to keep up to date with all the ongoing news and events in the Call of Duty esports scene here on GINX Esports TV.